Description
HOW MEDICINES WORK IN OUR BODIES
Medication according to your genes is to know which drug is well tolerated and in what dose it is needed. Everyone reacts differently to medications. While some derive significant benefit from drug treatment, adverse side effects can trigger serious complications and even fatal consequences in others. It is estimated that about 7% of hospital patients experience serious side effects and about 0.4% of you die as a result. Drug side effects are the fifth leading cause of death in the Western world and a large proportion of these cases are due to drug intoxication. Another portion is triggered due to the effects of drugs on each other, called interactions.
The path of drugs through our body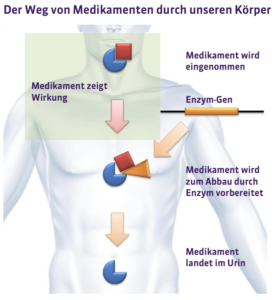 When a drug is swallowed or injected with a needle, it first enters the bloodstream, through which it is transported to the target organ.
Afterwards, the drugs are recognized by an enzyme produced by the body and prepared for degradation from the bloodstream, where most drugs lose their effect.
The deactivated drug is then filtered out of the kidneys and ultimately excreted through the urine.
We have summarized further information for you in the Science Medication section.